Solar Panel Mounting Hardware

Flush Mount Hardware
Use SOLARHOT flush mount hardware kits for a nice clean installation for a pitched roof. Kit includes 4 U channel feet with butyl, 8 stainless steel lag bolts and washers, and 4 clip assemblies.
Drawing
Drawing 2
Installation Instructions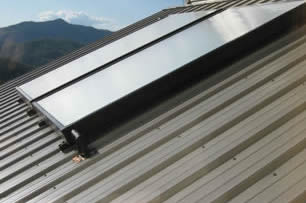 Rack Mount Hardware
Easy adjustable rack mount hardware mounts a collector array and the perfect tilt on a flat roof or on a ground mount.
Drawing
Drawing 2
Back Leg Close Up
Front Feet Close Up
Rear View
Angled Rear View
Side View


Ballasted Collector Array
Ballast Mounting hardware now available. Click here for video.