NEW *** PolySun Online ***


Polysun Simulation Software
State-of-the-art Solar & Geothermal simulation software
The Polysun product range includes all the tools you'll ever need to design, enhance and simulate your systems in the field of renewable energies. Whether for heat pumps, solar thermal, photovoltaic or cooling systems Polysun is sure to provide you with the software that best suits your needs.
Unequalled flexibility in the design of systems with top-quality definition as well as yield and economic calculation features.
Polysun helps you in your daily work

Time-saving, professional design
Reliable yield forecasts including worldwide weather data and interpolation for user-defined locations
Hassle-free enhancement of new and existing systems
Output of all information required for any subsidy application
Easy generation of comprehensive PDF reports


SOLARHOT is the North American distributor partner for Polysun.
PolySun For Windows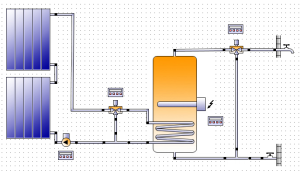 -Windows 7, Vista, XP, 2000
-Minimum 512 MB RAM
-Network Interface Card


PolySun For Mac
- Mac OS X 10.5.2 or higher
- Intel 64bit CPU
- Java 1.6


Your advantages with Polysun
– Time-saving design

– PDF-reports satisfy customers
– Clear yield forecasts
– Successful incentive applications
- Enjoy modularity and maximum flexibility with Polysun Designer
Polysun's modularity and flexibility enable you to design and modify your system in the blinking of an eye. Our software enables hydronic systems to be combined and simulated in any thinkable way. This will prove particularly helpful when it comes
to complex systems. Polysun is also an ideal solution for new buildings, redevelopment activities and large systems.

Sample report
Sales Flyer
PC Demo
Mac Demo
Price List
Click here to order or call us to purchase by phone 919.439.2387