Circulator Pumps

Wet Rotor - Wilo Star Series
The WILO Star Submittal Classical Star-Cast Iron pump is a wet rotor circulation pump, with flanged or union connections. They have a cast iron body for hot-water heating systems of all kinds, industrial circulation systems, cold-water systems and air-conditioning systems. There is also a bronze body for domestic hot water applications.
Technical Data
Permitted temperature range +14° F to +230° F (-10° C to +110° C)
Power Supply 1~115 V, 60 Hz
Protection class F
Companion flange sizes ¾", 1", 1 ¼", and 1 ½" NPT
Max. operating pressure 145 PSI (10 bar)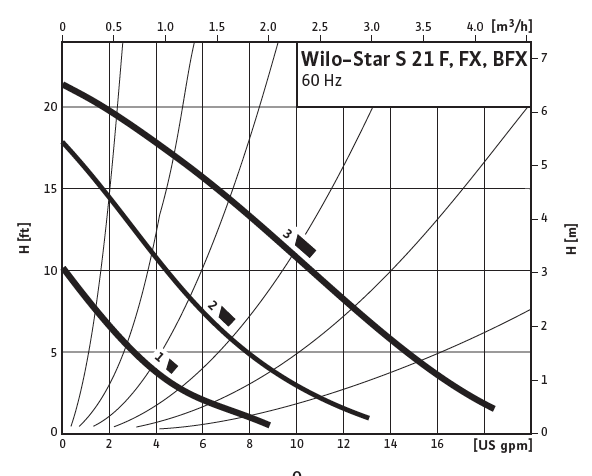 Equipment
3 manual selectable speed stages
Impedance protected motor, motor protection not required
Cable entry both sides of terminal box
Quick connection spring clips for simple electrical connection
Materials
Pump housing: Grey cast iron or bronze
Imepller: Engineered Composite (PP-40% GF)
Shaft: Stainless steel (Cr)
Bearing: Metal-impregnated carbon
Scope of Delivery
Pump
Flange gaskets
Installation and operating instructions
Dry Rotor - Armstrong E Series

Built tough to last for years

System engineers will appreciate the rugged construction of the E Series design: stainless steel shaft, permanently lubricated bearings, silicon carbide mechanical seal and high-strength Noryl impeller. These high performance components are designed, constructed and assembled to give years of trouble-free service.
Easy to use – whether for new installations or as a replacement circulator installing contractors will appreciate the interchangeability
of the E Series pumps: flange-to-flange dimensions and hydraulic characteristics (flow and head) are matched to many competing pumps of equal power, so it's easy to upgrade existing installations with an E Series pump when other pumps have failed.

More profitable right from the start. Building owners will appreciate the fact that E Series circulators save money... from the start and for the future:


A very competitive initial purchase price that saves
you money right away.

Higher efficiency means significant ongoing savings through reduced operation costs.

Easy-to-replace mechanical seal costs a fraction of the price of installing a new replacement circulator! It
makes the E Series an investment to appreciate rather than an expense to manage. With calculated L10
bearing life of greater than 50 years (at best efficiency point), you will enjoy these savings for years to come.